We sell architectural, engineering, and land surveying businesses across the country to key employees and outside third parties. Although some businesses are actively looking to expand through acquisitions, many react when an opportunity arises. This results in a customized marketing plan for your business.
As M&A advisors, we have built our database of potential buyers by attending, exhibiting, and speaking at annual conventions of architectural, engineering, and land surveying businesses. Our articles about the process of buying a business, selling a business, and increasing business value are regularly included in newsletters of associations across the country.
Our Step-Up Legacy Program is designed for business owners that desire to sell to their key employees at fair market value and be paid at the closing. This program allows the employees to put down as little as 10% of the purchase price. We arrange bank financing for the balance.
Allen Business Advisors is a Mergers and Acquisitions Advisor that sells architectural, engineering, and land surveying businesses.
Business owners can learn about selling their business on our Sellers page:
Prospective buyers of a business can begin educating themselves on the Buyers page:
Unlike when real estate is sold with the same standardized forms used for every transaction, each business's sale is different and customized to meet the seller and the buyer's needs. There is a box of what is reasonable and acceptable and what is not reasonable or acceptable for every transaction. We help people understand what is reasonable and unreasonable and function within the box
We help individuals and partners sell their business to their key employees or to outside third-parties. We are former commercial loan officers with a combined over 50 years of banking and business brokerage experience. As lenders, who have financed dozens of acquisitions, and typically had more of the Bank's money into the transactions than either the buyers or the sellers, we know the financial and non-financial factors that will influence success! As brokers, we understand the psychology of both buyers and sellers.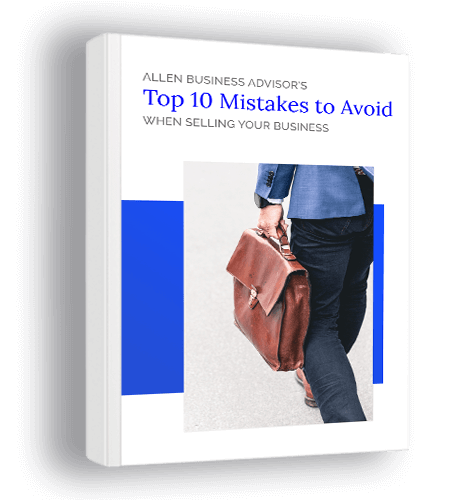 10 Mistakes to Avoid When Selling a Business
Instant E-Book Sent Immediately To Your Inbox
One of the most difficult decisions a professional practice has to eventually make is whether to continue or to sell the practice. If the decision is to sell, what many owners realize is that structuring the appropriate exit strategy can be just as difficult without proper guidance.
The brokers at Allen Business Advisors (ABA) bring over 10 years of experience working with professional entrepreneurs who have looked to us for unbiased advice and guidance. As business advisors, business brokers, business owners, and former Commercial Loan Officers, we understand that selling a practice is not a one-dimensional decision but requires a comprehensive strategy. As such, we employ a four-stage proprietary system:
Pre-sale
Marketing
Negotiations
Buyer Finance